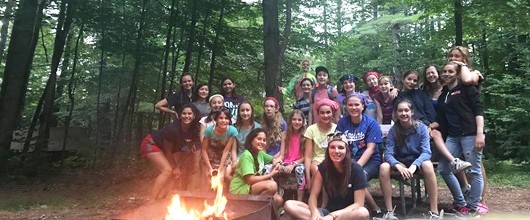 Join the Camp Team
The Best Summer Job Ever!
Camp is the only place you get paid to make s'mores, build campfires, and sing all day... to swim, make lanyards, and watch shooting stars. Get outdoors and change lives this summer while playing games, walking in the sunshine, and celebrating summer every day. You get to make friends you'll never want to leave. You get to come to work in your favorite shorts every day. Best of all, you get to teach girls to be strong, confident young women, just by being you.
Camp jobs offer invaluable skill-building, leadership, training, and enrichment opportunities that can't be found anywhere else! Regardless of your college major, camp experiences develop skills that will enhance your job marketability. The benefits go far beyond a paycheck, too. Business executives often note that experience as a camp counselor translates into excellent management and personnel skills. Your camp job might even qualify for college credit or as an internship experience.
View a council map featuring our camp properties.
See our job openings and apply to work at camp. If you have questions about seasonal camp positions, please contact us.