All GSEMA offices and shops will close for Thanksgiving weekend on Wednesday, November 21, at 2 PM, and will reopen Monday, November 26.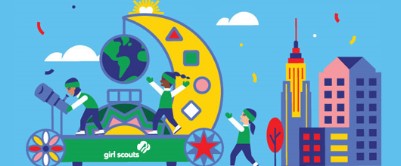 On November 22, keep an eye out for Girl Scouts' "Building a Better World" float in the 92nd Macy's Thanksgiving Day Parade®! This year we're celebrating girls who build a better world through STEM, and 15-year-old rising pop-country star and Girl Scout Tegan Marie will be performing on the float.

Continue >

Our volunteers go above and beyond in supporting girls as they develop leadership skills and grow in confidence. They are strong role models for girls, and we thank all volunteers for their hard work and dedication. If you know an exceptional Girl Scout volunteer, nominate them for a recognition award!
Continue >

Start: Sat Dec 01 2018, 10:00 AM

End: Sat Dec 01 2018, 3:00 PM

Location: The Bentley Arena

Start: Sat Feb 02 2019, 9:30 AM

End: Sat Feb 02 2019, 3:00 PM

Location: Wentworth Intitute of Technology