Due to a service provider outage, our Customer Care phone lines are down. During this time, please contact us at customercare@gsema.org.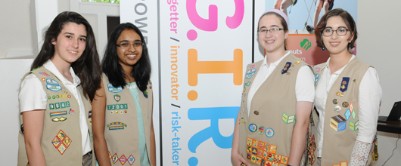 Represent Girl Scouts across the council as a girl member of the Board of Directors! In this role, you will collaborate with local professional leaders and take an active role in the decisions that shape Girl Scouting throughout eastern Massachusetts. Complete an application and have two recommendations submitted on your behalf by January 18, 2019.

Continue >

Our volunteers go above and beyond in supporting girls as they develop leadership skills and grow in confidence. They are strong role models for girls, and we thank all volunteers for their hard work and dedication. If you know an exceptional Girl Scout volunteer, nominate them for a recognition award!
Continue >

Start: Sat Dec 01 2018, 10:00 AM

End: Sat Dec 01 2018, 3:00 PM

Location: The Bentley Arena

Start: Sat Feb 02 2019, 9:30 AM

End: Sat Feb 02 2019, 3:00 PM

Location: Wentworth Intitute of Technology