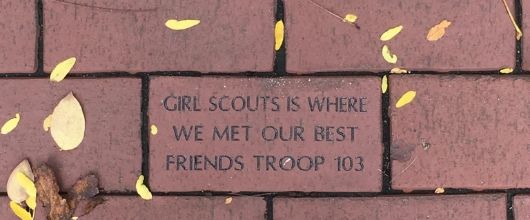 Pathway to Leadership
Reserve a prominent place in Girl Scout history for yourself or a loved one by purchasing a commemorative brick with a personalized message to be installed at Camp Cedar Hill.  This is the perfect way to express congratulations for a Gold Award, to recognize a birthday, graduation or wedding, or to show sympathy or appreciation.  
To make a gift by cash or check, please send to: Girl Scouts of Eastern Massachusetts, 265 Beaver Street, Waltham, MA, 02452.
Thank you for considering a charitable donation to Girl Scouts of Eastern Massachusetts. For more information, contact Annie Garmey, Chief Advancement Officer.