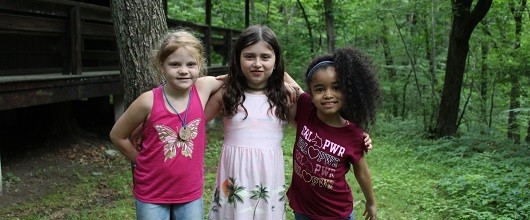 GSEMA FAQs
Girl Scouts is the premier leadership program for girls, letting girls themselves determine how they will spend their time and the impact they can make in their community and the larger world.
Para información en español visite girlscouts.org/es o llame al 844-306-GSEM (4736).
How do I join Girl Scouts?

Who can join Girl Scouts?

GSEMA welcomes non-binary youth and transgender boys in addition to anyone who identifies as a girl who are in grades K-12. Adults over 18 can join as members to volunteer.


What do youth members do in Girl Scouts?

Camp: Outdoor adventure is an integral part of Girl Scouting. We offer resident and day summer programs, April vacation sessions, and outdoor programs throughout the year so girls and their families can enjoy the outdoors and develop lifelong friendships.
Troop: Most Girl Scouts become part of a troop (a group of 10-15 girls with adult volunteers) and meet regularly throughout the year. Troops meet 1-2
times per month for about an hour with some activities being longer
(e.g. a field trip or overnight).

Community Troops: GSEMA partners with schools and after-school programs to bring the Girl Scout Leadership Experience to girls in key under-resourced communities.


How do I find out about program offerings?

Our website is filled with enriching activities and programs all year long. Search our program database by location, date or topic, or our camp database.

Additionally, you can sign up to receive our monthly enewsletters, which highlight upcoming programs, council updates and other important news.

When do troops meet?

Troops can begin anytime during the year, with most troops meeting from October through June, and some meeting a few times during the summer. We encourage troops to meet at least twice per month. Meeting days and times are determined by the troop volunteer team. We recommend that troops meet in community centers, schools or other public buildings.
How much does Girl Scouts cost?

The annual Girl Scout membership fee is $50 for youth members and $25 for adults (financial aid is available). Many troops collect dues ($5-7 per month) and participate in the Girl Scout Cookie Program to help cover the cost of badges, books, and activities throughout the year.

Is financial assistance available?

Yes. Cost should not prevent any girl from becoming a member or participating in Girl Scouts of Eastern Massachusetts' activities or programs. Financial Assistance is granted based on need, within the limits of the Girl Scouts of Eastern Massachusetts budget.

Is a uniform required?

No. The membership pin shows that one is a Girl Scout. Girl Scouts can display insignia on their sashes or vests. When asked to represent Girl Scouts in public, members should be in uniform or dress for the occasion with something that identifies them as Girl Scouts. The Girl Scout Shop carries many options.

What forms of payment do you accept?

When making a payment through our website, including our gsEvents program registration site, please note that we accept Visa, Mastercard and Discover cards.

How can I support my Girl Scout's troop?

We offer many volunteer opportunities, including participation in their troop volunteer team.

Who do I call or email if I have a question?

Have a question about the Girl Scout member community, our website, your membership status or GSEMA programs? We're here to help! Email your question to CustomerCare@gsema.org. 

Para Español llamar 844-306-GSEM (4736).