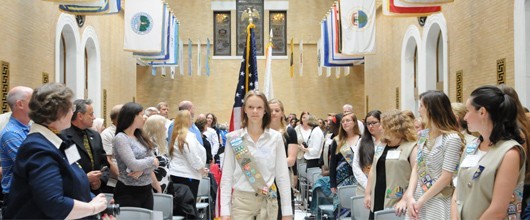 About Us
We're Girl Scouts of Eastern Massachusetts―45,000 strong, with 30,000 girls and 15,000 volunteers in 178 communities in eastern Massachusetts. We're here to build girls of courage, confidence, and character, who make the world a better place.
Girl Scouts is the premier leadership program for girls, letting the girls themselves determine how they will spend their time and the impact they can make in their community and the larger world.
We welcome all girls in grades K-12. You can sign up any day, year-round. If a troop isn't immediately available in your area, consider becoming an independent member. You can do the same things, earn the same awards, and go to the same events as every other Girl Scout.
Collaboration is key to our ability to deliver programs to girls in underserved communities. We partner with community agencies year-round to promote positive social skills and behaviors through four modules: Financial Literacy (Finance and Business), Health and Fitness (Fit and Beautiful), Outdoor Environmental Education (Forests, Farms and Blueways), and the STEM disciplines (Fractions, Fixtures and Bytes, Beakers).
We also welcome women and men over the age of 18 to serve as volunteers, working directly with girls or helping the council in event or administrative roles.