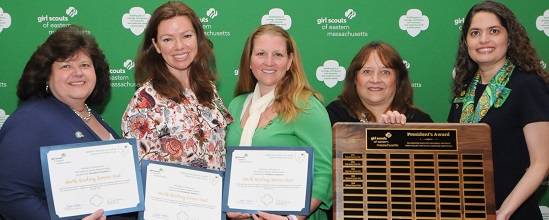 For Service Units
What is a Service Unit Team?
Do you wish your local Girl Scout community was more active? More involved? More engaging? Watch this short video to learn more about Girl Scout service unit teams. Then visit our Ways to Volunteer page, if you're interested in becoming a service unit volunteer for your community.
Service Unit Recruitment Events Support
Is your service unit hosting or attending a local event to recruit new Girl Scouts? Let us help you with custom Girl Scout branded materials, such as electronic flyers and brochures, banners, and yard signs! Share your plans with us so your Recruitment Specialist can help create a custom kit to support your recruitment efforts. Here's a few flyers to get started:
Service Unit Virtual Meeting Support
We offer special use of our council Zoom account to service units interested in holding virtual meetings or offering a remote meeting attendance option to their members. To request a GSEMA Zoom room, please email customercare@gsema.org.
Service Unit Rosters via Looker
Service unit volunteers now have 24/7 access to rosters via Looker, our new membership reporting tool. Troops should continue to use My GS for their troop rosters and membership information.

Instructions for logging in, navigating the Looker dashboards, and a reminder about GSEMA's CISP policy for confidentiality of member information are available in the gsLearn Online Pathway for Service Units. If you have questions about Looker or need additional help, please contact your volunteer support specialist.
Find Your Volunteer Support Specialist
Use the map below to click a shaded region for a volunteer support specialist's contact information.