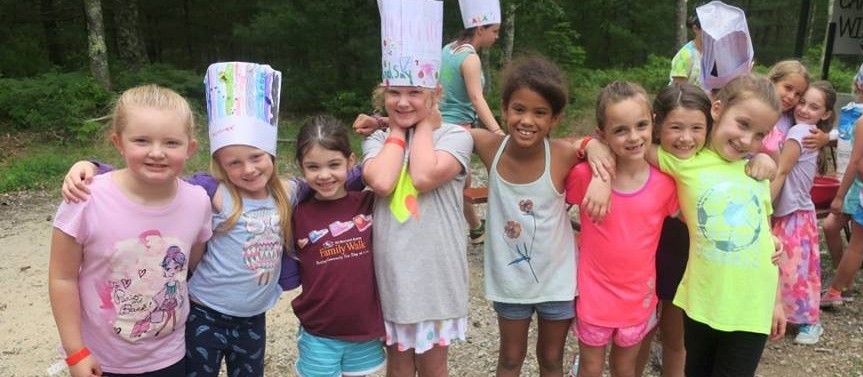 Wind-in-the-Pines Day Camp
Summer Phone: June 17-August 16, 508-224-6039
Year-Round Camp Hotline: 617-350-8335

Hours of operation: 9 AM-4 PM

Winner of the Boston Parents Paper 2018 "General and Traditional Summer Day Camps!" Family Favorite

Unleash the adventurer within at Camp Wind-in-the-Pines, now in its 89th year. Our dynamic camp is packed with outdoor activities for girls of all abilities. Go swimming or boating on our spectacular waterfront. Hike vast nature trails. Challenge yourself on high and low ropes courses. Scale the 20-foot rock face climbing wall. Take aim at archery. Enjoy a wide variety of other camp favorites like crafts, campfire cooking, drama, and games. Optional overnights are available. New this year—girls entering kindergarten can join the fun!

For more information, attend an open house, or to schedule a tour, email us or call 617-350-8335. Financial aid is available.
Read about Wind-in-the-Pines Day Camp in our 2019 Camp Guide. All program fees include bus transportation to/from these towns: Acushnet, Braintree, Carver, Halifax, Hanover, Kingston, Mansfield, Middleboro, Pembroke, Plymouth, Raynham, Rochester, Rockland, Sagamore Beach, Taunton, Wareham, West Bridgewater, and Weymouth. Check bus stop locations and times on the bus schedule.  
Already registered for camp? Read your 2019 camp confirmation packet to find all the information you need to know, including a suggested packing list.

Each day begins with an opening flag ceremony and singing. You'll then enjoy fun activities including arts and crafts, swimming, fun sports, and working on various activities and projects throughout camp. The day ends with the traditional flag ceremony.

Emily "Moo" Hollstein can't wait for the upcoming camp season. This will be Moo's first year as Director, but seventh year working at Wind in the Pines Day Camp. Previously she has been a Unit Counselor, Program Director, and Assistant Director here at WIP Day. She believes camp is a place for girls to be genuine and to challenge themselves. Outside of camp Moo works as a first-grade teacher. She received her degree in education from Bridgewater State University after teaching in Ireland for a semester. At camp Moo loves swimming in Gallows Pond and going all-out for dress up days. She looks forward to meeting new campers this summer and seeing returning campers again.