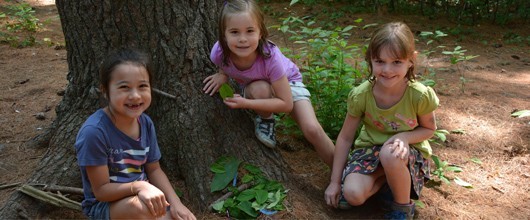 Camp Rice Moody: Reading
Camp Rice Moody, sited on eight forested acres in a residential area, is an easy 1-mile hike from the Town Forest. Features include an open play area, well-suited for cookouts and troop activities, and the lodge, a modern all-purpose building for overnights and troop meetings. The lodge has a large meeting room that can be divided. Its kitchen has two stoves and two refrigerators. Other features include an indoor bathroom, an indoor (non-cooking) fireplace, an outdoor (cooking) fireplace, 50 mattresses, six tables, and 50 chairs. There are no showers. Two groups may be booked for shared use with the room partition in place. After-school and weekend programs are offered.


Camp Rice Moody hosts day camp for our youngest campers (grades K-1) including half-day programs, as well as opportunities for troops and other organizations to rent the property.
The lodge sleeps 50 and has a day use capacity of 96. The lodge is available year-round (excluding summer camp).


Address: 29 Rice Road, Reading, MA
From Reading Center, take Route 129 West (Lowell Street). Turn right on Grove Street, travel a ½-mile and turn right onto Forest Street. Go ⅓-mile on Forest Street and turn right onto Rice Road. Look for the dirt driveway on the right.