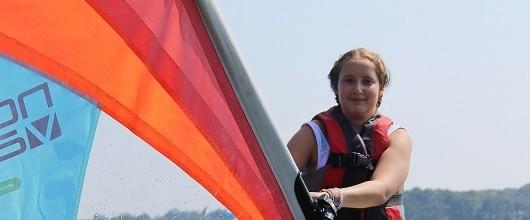 Camp Favorite
Summer Phone: July 2–August 11, 508-896-3831
Year-Round Camp Questions:  customercare@gsema.org
Address: 208 Crowell's Bog Road, Brewster, MA 02631
Get on board for camp adventures on the Cape! Located in Brewster, Camp Favorite's water sport activities are a thrilling twist on the traditional summer camp experience. At this camp your girl can sail, windsurf, kayak, surf, and swim right from our freshwater beach, or pedal down the Cape Cod Rail Trail in our extensive biking program. 
Join us at our Camp Favorite Open Houses!
June 11, 2023 | 2-4 PM
June 28, 2023 | 6-8 PM
Resident Camp
About

Read about Favorite Resident Camp in our 2023 Camp Guide.

For more information, email us. Financial aid is available.

Typical Day

A typical day at Camp Favorite can be summed up in one word: FUN! Campers work together with help from their counselors to plan a schedule centered around their interests. You may spend half the day focusing on your program specialty and the rest of the day exploring other exciting activities camp offers. An emphasis on building friendships, confidence, and leadership skills is incorporated into every activity. At Camp Favorite, no two days will be the same, but each day will be filled with laughter, exploration, and discovery.

About the Director

Casey "Gherkin" Anthony is excited to be joining Camp Favorite as the director! This is her first summer at Favorite, but she has worked at other Girl Scout camps for 13 years in various roles - unit counselor, unit leader, assistant director. She is passionate about creating opportunities for campers to learn new skills, make lasting friendships, and grow into more compassionate and confident young leaders. At camp, Gherkin loves playing the guitar, stargazing, and sailing, and she can't wait to spend the summer on Long Pond! During the year, she is a bilingual special education teacher in Framingham.

Sleeping Quarters

Our camps have excellent sleeping quarters that allow campers to be close to nature but still have many comforts of home. Campers live in platform tents with 2-3 others of the same age level who are enrolled in their same program. A unit is a group of nearby tents that house all of the campers in a program and generally have between 10-20 campers. Counselors sleep in separate tents near the campers. Every unit has flush toilets and electricity. See pictures of Camp Favorite sleeping quarters.


Health and Safety

Camp Favorite is an American Camp Association-accredited camp. This means that every five years, a nationally recognized organization ensures that everything we do (from the meals we serve to the programs we plan) is done in a safe way. By selecting an ACA-accredited camp, you can be assured your camper is safe.

Camp Favorite must comply with the regulations of the Massachusetts Department of Public Health (105 CMR 430.000) and is licensed by the town of Brewster, MA.

What to Bring

Packing for camp can be very hard, especially if you are a first-time camper. If you're wondering what you can and cannot bring to camp, view a complete packing list that will work for all our camp programs. We recommend packing in a camp trunk (less than 12" high) or a soft duffle bag that can fit under your bed. Please label EVERYTHING with your full name. Visit the Girl Scout Shop for camping essentials!

Directions

From Boston:  Take Route 3 south to the Sagamore Bridge.  Follow Route 6 East (Mid Cape Highway to Route 124, Exit 82 in Harwich.  Turn left at the end of the ramp onto Route 124.  Continue approximately 2 miles to the Brewster town line.  Take the first right onto Crowell's Bog Road.  The road will turn to dirt then watch for the Camp Favorite sign on your right. (approximately 1/2 mile).