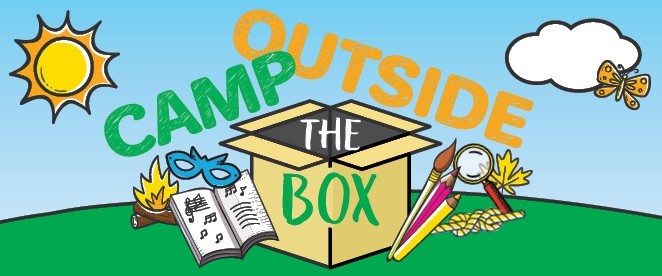 Camp Outside the Box
Camp Outside the Box brings the fun of GSEMA summer camp to your doorstep! Weekly themed boxes of 5-8 fun, age-appropriate, and meaningful camp activities for kids gets them exploring the outdoors and their creativity. Think nature exploration, tie-dye, knot-tying, rocket launches, friendship bracelets, scavenger hunts, and more!
We'll gather virtually by age level once a week to participate in an activity together, and stay tuned for an online all-camp experience! While nothing can totally replace the magic of in-person summer camp, Camp Outside the Box brings the whimsy and joy of camp to the safety of your home.
Sign up for one week, or all six! For $75 per week, a Camp Outside the Box with activities and instructions will be mailed to you ahead of each week of summer adventures.
Plus, be on the lookout for exciting summer activities for the whole family—to be announced soon!


Themed Boxes
Fantasy and Fun
July 6-10
Daisy | Brownie | Junior | Cadette | Senior and Ambassador
Embrace the magic and fun of summer! Make a wand, take part in a costume contest, create your own fantasy story, mix potions, and more. Get ready for a magical camp adventure!
Marvelous Makers
July 13-17
Daisy | Brownie | Junior | Cadette | Senior and Ambassador
Whiz! Bang! Pop! Whirl! When the gears move, what will happen? Express your creativity as you take on STEAM-themed projects. Build simple machines, create your own play-dough, make works of art using patterns, and launch your one-of-a-kind rockets!
Outdoor Adventure
July 20-24
Daisy | Brownie | Junior | Cadette | Senior and Ambassador
Explore the outdoors while taking your skills to the next level. Make a tasty treat, practice fire safety measures, learn about outdoor tools, practice knot-tying, and take part in Girl Scout traditions more than 100 years strong. Create outdoor art and embrace the natural beauty of your own neighborhood!
She Creates
July 27-31
Daisy | Brownie | Junior | Cadette | Senior and Ambassador
Create colorful projects as you paint, color, sculpt, and more. Make recycled art, friendship bracelets, and other arts and crafts projects that take art supplies beyond their normal use. If you can imagine it, you can create it!
Day at the Museum
August 3-7
Daisy | Brownie | Junior | Cadette | Senior and Ambassador
Draw inspiration from (virtual) trips to museums of all types, and then create your own masterpieces! You can design your own dinosaur scene, build a bridge, or create a cabinet of curiosities!
Summer Magic
August 10-14
Daisy | Brownie | Junior | Cadette | Senior and Ambassador
Enjoy the magic of summer from your home! Create tie-dye, make a camp snack, explore nature, and participate in camp-style challenges. Then end the week with an all-camp online sing-along.
Leadership Programs
Virtual CIT
July 6-August 14
This program is an opportunity for mature and qualified young women to work with children and receive training. In this 6-week summer adventure, CITs from all the resident GSEMA properties will come together to learn the basics of leadership, childcare, safety, and what it takes to be a camp counselor.  During this program, increase your knowledge of camp songs, games, and activities while learning how to work with girls. There will be opportunities to practice your skills and plan a virtual event for younger girls in Camp Outside of the Box. The program will include self-led sessions and live virtual meetings each week. 
Session 4A: Program Aide I 
July 27-August 7
Grades 7-10
This two-week program is a great step for future camp counselors! You'll receive a daily leadership training (Monday-Thursday) as you learn about Girl Scout programs, work with younger girls (virtually), and practice your outdoor skills. Program Aides will receive a box of program activities as well as the Program Aide Pin.