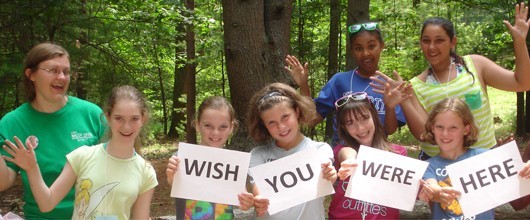 Our Camps
Our properties host camping and outdoor activities, which remain a favorite for girls at every age, as they have been throughout Girl Scout history. We offer summer day and resident camp programs, and  family/troop/group camping. Prior Girl Scout membership is not required.

Year-round, troops can conquer our high ropes challenge courses and camp in lodges and tents, learn outdoor and survival skills, and discover nature. We also open our properties to corporate groups for team-building retreats and conferences, and to families for weddings and other celebrations.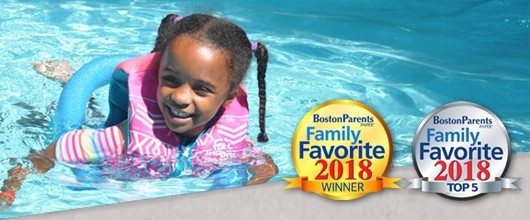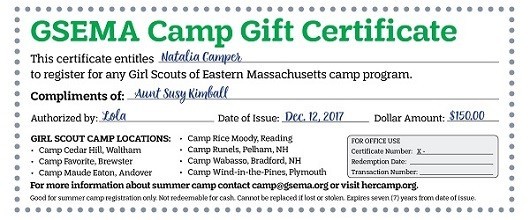 Give her campfire singalongs, cool waters to escape the summer heat, high ropes challenge course thrills, horseback riding, sailing, and more. A GSEMA gift certificate can be redeemed for camp sessions at any of our 6 day and 4 resident camps. Anyone can give the gift of a week (or more!). Visit a GSEMA shop or email us.   
Research shows summer camp can help children retain a significant amount of what they learn during the school year. At Girl Scout camp, girls make new friends, feel good about themselves, and access experiences they would not normally be offered, such as sailing, creative arts, horseback riding, drama, and ropes courses team activities.  
Girl Scout camp is a safe environment to have fun with friends, play outdoors, and explore new activities. Girls get to be decision-makers with leadership opportunities in every program. It's more than activities; it's a caring community.
Our day camps are located a short bus ride from home: Cedar Hill/Waltham, Favorite/Brewster, Maude Eaton/Andover, Rice Moody/Reading, Runels/Pelham, NH and Wind-in-the-Pines/Plymouth. Bus transportation is included in the fee.

We offer bus transportation weekly from Boston, Braintree, and Woburn to our four resident camps, for an additional fee. Our resident camps are: Favorite/Brewster, Runels/Pelham, NH, Wabasso/Bradford,NH, and Wind-in-the-Pines/Plymouth.
Not sure which camp is right for your girl? Check our Camp-at-a-Glance overview or read our full summer 2019 Camp Guide. Attend an open house, call the camp hotline 617-350-8335, or email with questions or to schedule a family tour of any camp.
Already have a CampInTouch account? Log in here to complete forms and make payments.

Year-Round Outdoor Program
We offer fun, hands-on learning for all interests—enrichment experiences that meets girls' needs. Our year-round ourdoor adventures are opportunities for girls to learn skills to resolve conflict, accept differences, get along with others, and work together to achieve a shared goal. The atmosphere of acceptance and sharing helps girls thrive.  
Search for year-round camp programs in your area or at your favorite camp property.