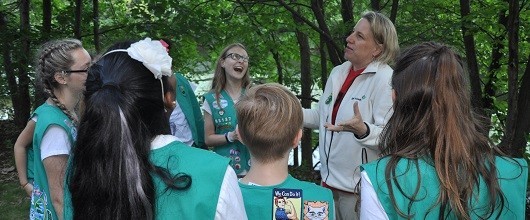 Volunteer Resources
Your one-stop-shop for the most commonly used forms and key volunteer resources.
Virtual Girl Scout Troop Meeting Support
Zoom is an intuitive online video conferencing tool that can be used on laptops, tablets, and smartphones. It's a great way to bring real-time, face-to-face connections to virtual experiences—including virtual troop meetings. Virtual Girl Scout gatherings should follow the same volunteer-to-girl safety ratios used for in-person gatherings. We also recommend disabling private chat functions, limiting screen sharing to hosts only (approved volunteers or girls), and limiting file sharing to hosts only for Zoom meetings. 

If you would like to hold a virtual troop meeting for 40 minutes or less, you can use a free personal Zoom account. Learn more about hosting your own virtual Girl Scout troop meeting.
For virtual meetings longer than 40 minutes, you can request use of GSEMA's Zoom for Troops room, which can hold up to 100 attendees at once. 
Want to learn more about Zoom and virtual meetings? Join us for a drop-in Zoom Tutorial for Girl Scout Groups on Mondays, Wednesdays, and Fridays at 12 PM. 
Looking for fun and enriching programs that can be done from home? Check out Girl Scouts at Home for virtual badge activities, journeys, resources, and more!
Getting Started as a Troop
Are you a new troop leader? We've got you covered. Check out the New Leader's Guide to Success, a resource designed especially for you! Page 15 has a handy Getting Started Checklist for your first to-do items.  
Training for Volunteers
GSEMA's online learning platform, LEAD Online, is continually updated with new volunteer trainings, documents, resources, videos, and more! Whether you're a new or returning leader, a service unit team member, or a friends and family network volunteer, there's something here for you.
First year as a leader? You should begin your learning with the Troop Pathway Orientation, the Essentials course for your program level (Daisy, Brownie, Junior, or Cadette), and Financing the Fun. After that, there are lots of courses to explore as your leadership adventure continues.
Second year and beyond? After completing your first year learning courses, you can explore opportunities for returning leaders like Step-Up trainings for bridging leaders (Daisy–Junior), Stress Management courses for every Girl Scout level, Overnight Orientation, Outdoor Basics, and so much more!
Need help? Contact Customer Care at customercare@gsema.org or 844-306-4736 to request access to LEAD Online.
Please note: LEAD Online will become gsLearn in early 2020, which will allow for single sign in from My GS. All personal training records in LEAD Online will be transferred to gsLearn. 
Troop Planning with the Volunteer Toolkit
The Volunteer Toolkit (VTK) is a digital K–12 program tool that provides troop leaders with program content, troop management tools, and other resources to make running a troop easier than ever. Log in now to get started. 
Fall Product and Cookie Programs
Resources are available online for Fall Product and Cookie Program sellers and volunteers, including training videos, live webinars, forms, guides, and more.
Beyond Troop Meetings