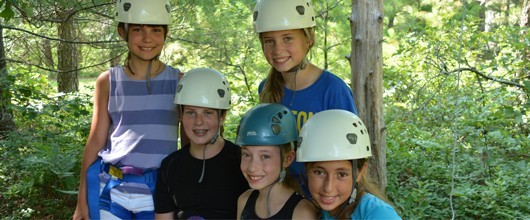 Wind-in-the-Pines Resident Camp
Summer Phone: June 23-August 16, 508-224-2002
Year-Round Camp Hotline: 617-350-8335

Camp Wind-in-the-Pines (WIP) is celebrating our 90th summer. WIP combines adventure sports, travel, and beloved camp activities into one unforgettable experience. Push your limits with our 20-foot rock face climbing wall, 35-foot high ropes course, and bouldering cave. Visit a variety of destinations, including Martha's Vineyard, the Berkshire Mountains, and New Hampshire. Cap off your stay with campfire, games, and crafts. Design your entire program with fellow campers, and see how friendships bloom.
For more information, attend an open house, or to schedule a tour, email us or call 617-350-8335. Financial aid is available.
Read about Wind-in-the-Pines Resident Camp in our 2019 Camp Guide. Bus transportation is available and will run to/from Boston, Braintree, Woburn, and camp.
Already registered for camp? Read your 2019 camp confirmation packet to find all the information you need to know, including a suggested packing list.

No two days are the same at Camp Wind-in-the-Pines! At the beginning of each session, you'll work with counselors to build a schedule centered around your unit's interests. Counselors will then take the ideas of all the campers and put them together for a great session that combines program specialty areas and the activities you choose!
An emphasis on building friendships, confidence, and leadership skills is incorporated into every activity. At Wind-in-the-Pines each day will be filled with laughter, exploration, and discovery.

Colleen "Giggles" Grady and Brenna "Pitch" Woods are very excited to be co-directing camp this summer. This will be their 2nd year as camp directors. Both are dedicated to making camp a "brave space" for girls to try new things, set personal goals, and grow in courage, confidence, and character. They believe camp should be camper-centered, experiential, hands-on, and goal-orientated for all girls.
Entering her 6th summer at Camp Wind-in-the-Pines, Giggles has previously held the positions of unit counselor, leadership director, and assistant camp director. Before becoming the leadership director in her first summer at Camp Wind-in-the Pines, Pitch was a counselor-in-training (CIT), intern, unit counselor, unit leader, leadership director, and assistant camp director at Camp Wabasso.
During the school year, Giggles is a middle school music teacher and Pitch is an elementary school reading specialist. Giggles earned her BA in Music Education from UMass, Amherst, and her MM from Ithaca College in Ithaca, NY. Pitch earned two BAs from Northern Arizona University in Elementary Education and Early Childhood Education.
Giggles and Pitch commit 100% to everything they do, including, but not limited to: singing, themed dress up days, slime obstacle courses, cookout desserts, rock climbing, sand castles, tie dye, and any other silly and over-the-top activity they can come up with! They are passionate about Girl Scouts and providing girls with new opportunities to grow as individuals in a safe, caring environment. They are hoping to see you this summer!

Campers who stay at Wind-in-the-Pines will live in platform tents. There are 3-5 girls in each tent. Each girl will have a cot with a mattress and small wooden cubby. A bathroom is located near each unit with flush toilets, handsinks, two shower stalls, and electricity. Hot showers are located in the central shower house. Each unit has a fire pit for cookouts. Counselors stay in quarters with other staff right by the campers' quarters. Each unit has a covered pavilion for rainy day space. Bug netting and poles can be purchased from the Trading Post.
See pictures of Camp Wind-in-the-Pines sleeping quarters.

Camp Wind-in-the-Pines is an American Camp Association accredited camp. This means that a nationally recognized organization comes in every 3 years to make sure everything we do (from the meals we serve to the programs we plan) is done in a safe way. By selecting an ACA accredited camp you can be assured your camper is safe.
Our camp is also licensed by the Plymouth Board of Health. The local Board of Health has separate local and state standards of health and safety with which we comply.

Packing for camp can be very hard if you don't know what to bring for your stay, especially if you are a first time camper. If you're wondering what you can and cannot bring to camp, view a complete packing list (PDF) that will work for all our camp programs. We recommend packing in a camp trunk that can fit under your bed or a soft duffle bag. Please label EVERYTHING with your full name. Visit the Girl Scout Shop for camping essentials!