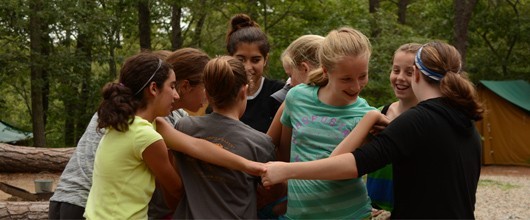 Favorite Resident Camp
Summer Phone: June 16-August 16, 508-896-3831
Year-Round Camp Hotline: 617-350-8335

Get on board for camp adventures on the Cape! Join us on Cape Cod's beautiful Long Pond for our 61st summer! Camp Favorite's water sport adventures are a thrilling twist on the traditional summer camp experience. Sail, windsurf, kayak, and swim right from our freshwater beach. Surfing, advanced windsurfing, and sailing programs are offered at local saltwater beaches. Explore the Cape as you pedal down the Cape Cod Rail Trail as a part of our extensive biking program. Watch the sun set while sitting on the beach next to a crackling fire; you'll be making camp memories for a lifetime.  
For more information, attend an open house, or to schedule a tour, email us or call 617-350-8335. Financial aid is available.

Read about Favorite Resident Camp in our 2019 Camp Guide. Bus transportation is available and will run to/from Boston, Braintree, Woburn, and camp.
Already registered for camp? Read your 2019 camp confirmation packet to find all the information you need to know, including a suggested packing list.

A typical day at Camp Favorite can be summed up in one word: FUN! Campers work together with help from their counselors to plan a schedule centered around their interests. You may spend half the day focusing on your program specialty and the rest of the day exploring other exciting activities camp offers. An emphasis on building friendships, confidence, and leadership skills is incorporated into every activity. At Camp Favorite, no two days will be the same, but each day will be filled with laughter, exploration, and discovery.

Molly "Goosey" Clark can't wait to return for her 6th summer as camp director and her 18th summer at Camp Favorite. Goosey has been a Girl Scout for over 20 years, and, at the age of 11, started attending Camp Favorite, where she learned to sail and gained important life skills like confidence and independence. Her love for camp led her to become staff, and she has worked as a camp counselor, sailing instructor, sailing manager and waterfront director. Outside of camp, Goosey works as an English as a Second Language teacher in Boston, teaching people from all over the world. Her favorite parts of camp are themed meals, sailing and eating campfire snacks. Goosey is excited to return as the director and spend another fabulous summer on the Cape!

Our camps have excellent sleeping quarters that allow campers to be close to nature but still have many comforts of home. Campers live in platform tents with 2-3 other girls of their age level who are enrolled in their same program. A unit is a group of nearby tents that house all of the girls in a program and generally have between 10-20 campers. Counselors sleep in separate tents near the girls. Every unit has flush toilets and electricity. See pictures of Camp Favorite sleeping quarters.

Camp Favorite is an American Camp Association accredited camp. This means that a nationally recognized organization comes in every 5 years to make sure everything we do (from the meals we serve to the programs we plan) is done in a safe way. By selecting an ACA accredited camp you can be assured your camper is safe.
Our camp is also licensed by the Brewster Board of Health. The local Board of Health has separate local and state standards of health and safety with which we comply.

Packing for camp can be very hard, especially if you are a first time camper. If you're wondering what you can and cannot bring to camp, view a complete packing list that will work for all our camp programs. We recommend packing in a camp trunk (less than 12" high) or a soft duffle bag that can fit under your bed. Please label EVERYTHING with your full name. Visit the Girl Scout Shop for camping essentials!