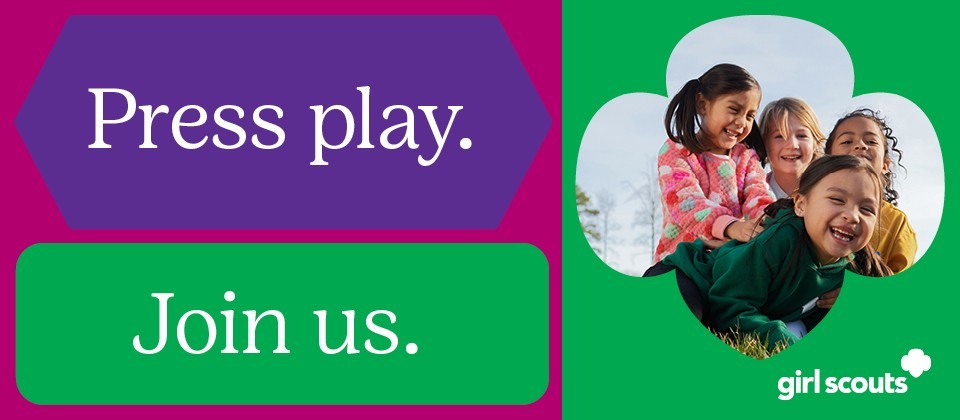 Join Girl Scouts
Fun with friends. New adventures. Making a difference.
Making friends, testing strengths, exploring new possibilities. It's all here for them. Whether teaming up with others or learning to shine on their own, Girl Scouts have the tools and community support they need to succeed.

Right now, Girl Scouts are meeting furry friends at their local animal shelters, giggling past lights-out at sleepovers, and learning how their favorite roller coasters work.
Above all else, they're having a blast—because they know bringing the fun is all about being their true selves, trying new things, and cheering each other on.
Get ready to join the crew and bring a bit more happy to your life.
Help Girl Scouts discover their place in the world.
Ever want to forget everybody else's expectations and just…be you? When you volunteer with Girl Scouts, you'll be creating a community where being your unfiltered, goofiest, most authentic self is the absolute best thing you can be.
Our local volunteers lead with their hearts and spark imaginations. They help Girl Scouts explore unique interests and unlock their potential.
Get Involved
Change the world with us. Become a Girl Scout volunteer.
Girl Scouts are changing the world and you can help them! Whether you have kids, grandkids, or no kids of your own, you can have a front-row seat to the fun and community, too. As part of a troop's leadership team, you will facilitate regular troop meetings, do fun activities, and connect with the local Girl Scout community. Learn what 5 steps you need to take to volunteer and start a troop today.

And all along the way, you'll be provided with training and support from experienced volunteers and staff.  You've got what it takes to change young people's lives. Need more information about starting a troop? Find it on our Starting a Troop webpage.  
Press play and start a Girl Scout troop today!
Discover Girl Scouts at an informational event.
Learn about Girl Scouts in your neighborhood by attending a free informational event! Whether you want to register your child or become a volunteer (or both!), staff members and local volunteers will be on hand to answer questions and help you get started.
Don't see a date that works for you? Let us know and we will be in touch.