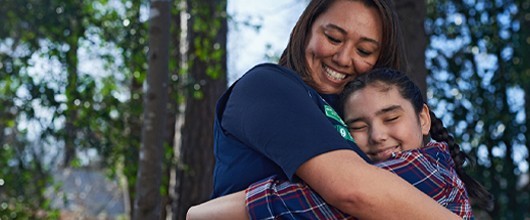 Join Girl Scouts
At Girl Scouts, your girl will discover who she is, what she's passionate about, and what she wants to achieve­—both today and in the future. Your girl will have fun and make friends as she participates in the Girl Scout Leadership Experience, a proven, one-of-a-kind leadership development program!
Already a member? Log in to renew.
Attend an Informational Event
Learn about Girl Scouts in your neighborhood by attending a free informational event! Whether you want to register your girl or become a volunteer (or both!), staff members and local volunteers will be on hand to answer questions and help you get started.
Check out this complete list of upcoming events! Don't see a date that works for you? Let us know and we will be in touch.
Can't find an event in your town?

Take a peek inside our troop Opportunity Catalog by using your zip code to search for girl or adult troop opportunities, or request more info for a recruitment specialist to contact you.

 

Don't see a troop in your neighborhood? Start one!

Caregivers make a key difference in the lives of girls by guiding them through the Girl Scout experience! Leading a Girl Scout troop should be a great time, which is why we'll support you every step of the way. We provide our leaders:

Convenient, online trainings that give you everything you need on your schedule
Activity Plans to help you quickly and easily prepare for meetings
Individual guidance from our Volunteer Engagement team
Flexibility! Leaders set the troop meeting times and locations

Need to know more to decide what's right for you?

For over 100 years, Girl Scouts has given girls the tools to lead, break barriers, and create positive change. Check out all the different ways to take the lead at Girl Scouts. Or, see all the exciting possibilities Girl Scouts offers for girls of all ages and choose your adventure.
Why Parents Love Girl Scouts


Questions? Call us at 844-306-GSEM (4736) or email us at customercare@gsema.org. Para información en Español llame Rosa al 617-352-0157.