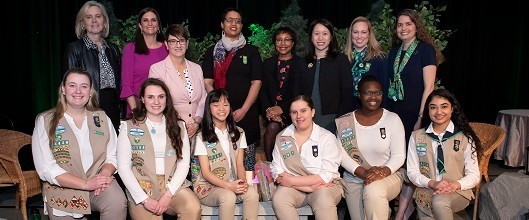 Leading Women Awards
Thank you to everyone who supported the 28th annual Leading Women Awards. Check out the photos from the event!
At GSEMA, we believe that every girl has the potential to make a difference in the world, and that all girls deserve the same opportunity and resources on their leadership journeys. Your support helps us offer the Girl Scout Leadership Experience to girls of all backgrounds, and helps girls empower themselves to become the changemakers of tomorrow.
We hope to see you at some of our upcoming events!
Brownie Sponsors

Daisy Sponsors

AAFCPAs
Pat Chadwick
Kelly and Robert Corwin
CVS Health
Dependable Cleaners
Ernst & Young, LLP
Keystone Partners
Jane L. Lundquist
Olive Connection Specialty Gourmet Shop in Brookline/Carol Sapoznik



Table Sponsors

Cambridge Trust Company
John and Lynn Cutter
Karen Edlund and Barbara Fortier
Michelle, Todd, Tyler, and Madeleine Harris
Sonia Kwon
LogMeIn
Diane Longtin
Diane McLoughlin
Marcia Metz
Jane Puffer
Bank of America, Private Bank
Simmons University
Kristen Truglio