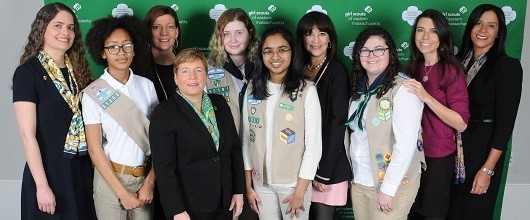 Leading Women Awards
A special thank you to our attendees and sponsors of this year's 2019 Leading Women Awards. To learn more about this year's Leading Women Honorees and Girl Scouts, please view our event program book. Don't forget to check out the photos from this year's event.
The Leading Women Awards celebration is Boston's premier leadership recognition event for women.
Leading Women Awards celebrate the outstanding commitment and contributions of women in our community. Honorees represent diversity of leadership in the community and beyond, and promote inclusion and opportunity for girls and women.
Girl Scouts of Eastern Massachusetts has honored more than 250 women with the Leading Women Award since its inception in 1992. The prestigious list of honorees includes those with outstanding careers who have made a significant, positive impact in an impressive array of fields.
Today more than ever, it is critical for girls to believe that they can become anything they aspire to be. By supporting the Leading Women Awards, you help to ensure that all girls have the opportunity to become Girl Scouts, regardless of their background or circumstances.
For more information about the Leading Women Awards, please email leadingwomen@gsema.org.