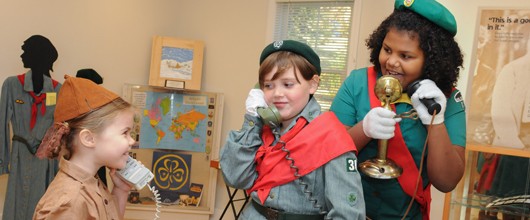 Girl Scout Museum
The recently renovated Girl Scout Museum at Camp Cedar Hill is home to one of the most extensive collections of Girl Scout memorabilia in the country, including photographs, uniforms, badges, and artifacts. The museum is open for visits, scheduled tours, and more.
The museum was recently awarded a $2,000 grant from Mass Humanities, through support of the Mass Cultural Council, to help produce a finding aid and index for 100 issues of The Trail Maker, the official magazine of the Massachusetts Girl Scouts from 1933-1942, so that the history of Girl Scouts can be more accessible to researchers and the public. The Trail Maker is significant in women's history for its representation of girls and women in leadership roles in the early 20th century and provides a detailed, insightful view of daily activities, outdoor education, technology, wartime hardships, politics, economics, the creative arts, and female perspectives from the past.
Custom Museum Visits
The Girl Scout Museum at Cedar Hill is located at 265 Beaver Street in Waltham, and is open for custom visits by individual Girl Scouts, troops, and other groups. Our volunteer curators and docents are eager to share their passion for history. Contact us to schedule a visit.
Resource Rentals
The museum rents original, vintage Girl Scout and international uniforms, as well as U.S. and international flags. Our museum resources will help you enhance a troop meeting or service unit event, host a fashion show, or bring a school report to life. A variety of program and flag kits are also available for rent (including uniform fashion shows!) to offer hands on learning and fun at troop meetings, service unit events, encampments, and more. All program kit rentals are $20/kit.   
Museum Archives
We accept donations of local Girl Scout news clippings, town records and items of Girl Scout memorabilia. Archives include primary source photographs, newspapers and artifacts connected to the beginnings of the Girl Scout Movement in Massachusetts, and showcasing life in Boston, Waltham and New Bedford over the past 100 years. Email us for more information.

Contact Us