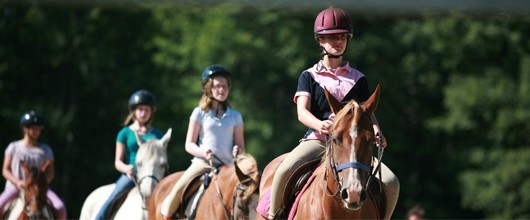 Wabasso Resident Camp
Summer Phone: June 23-August 16, 603-938-2240
Year-Round Camp Hotline: 617-350-8335


Camp Wabasso is a vibrant New England summer camp specializing in horseback riding, theater, and travel. Take the lead at our fully equipped riding stable, with horses for all riding abilities, plus two riding rings for lessons and practice. Our 200-acre site provides miles of safe riding trails. Stand front-and-center in our theater program or up your foodie skills with a cooking class. Classic camp activities include swimming, boating, archery, and crafts, plus woodworking and exciting day trips. No two sessions are alike, but you'll find fun and friendship every day!

For more information, attend an open house, or to schedule a tour, email us or call 617-350-8335. Financial aid is available.

Read about Wabasso Resident Camp in our 2019 Camp Guide. Bus transportation is available and will run to/from Boston, Braintree, Woburn, and camp.
Already registered for camp? Read your 2019 camp confirmation packet to find all the information you need to know, including a suggested packing list.

At the beginning of the session, you'll work with counselors to plan what the group will do while at camp. With every camper's input in the program, no two days will be the same. Spend part of each day participating in specialty program activities and fill the rest of the time with many different activities. Get creative in arts and crafts, cool off at swimming, or take aim on our archery range. At least once during the session you will have the chance to cookout with your unit.

Deb "Brook" O'Shea is the director of Camp Wabasso. This will be her 16th summer directing Camp Wabasso. Brook has 40 years of experience working at Girl Scout camp in roles such as adventure director, CIT director, and associate director. Brook believes Girl Scout camp provides girls with a chance to develop new skills they will use throughout their lives, such as leadership, negotiation, and working in a cooperative group. Her favorite memories of camp are final night campfires at the beach, especially the candle ceremony. During the school year, Brook is a special education teacher at a high school in Vermont. Brook is an accomplished teacher and spends much of her free time helping her students excel in life. In 2009, she had the honor of being named one of Vermont's Outstanding Teachers. Brook holds a BS in Education from Butler University and MS in Special Education from Indiana University.

Campers who stay at Wabasso will live in cabins or platform tents. There are 4 girls in each tent and 8-16 girls per cabin. Each girl will have a cot with a mattress. A bathroom is located just a few feet from each tent. Hot showers are located in the central shower house. Each unit has a fire pit for cookouts. Counselors stay in quarters with other staff right by the campers' quarters. Each unit has a covered pavilion for rainy day space. Poles for bug netting will be provided. Bug netting can be purchased at the Trading Post.
See pictures of Camp Wabasso sleeping quarters.

Camp Wabasso is an American Camp Association accredited camp. This means that a nationally recognized organization comes in every 3 years to make sure everything we do (from the meals we serve to the programs we plan) is done in a safe way. By selecting an ACA accredited camp you can be assured your camper is safe.
Our camp is also licensed by the New Hampshire Department of Environmental Services. The Department of Environmental Services is the state regulating body for summer camps in New Hampshire and has separate state standards of health and safety with which we comply.

Packing for camp can be very hard if you don't know what to bring for your stay, especially if you are a first time camper. If you're wondering what you can and cannot bring to camp, view our complete packing list. We recommend packing in a camp trunk that can fit under your bed or a soft duffle bag. Please label EVERYTHING with your full name. Visit the Girl Scout Shop for camping essentials!