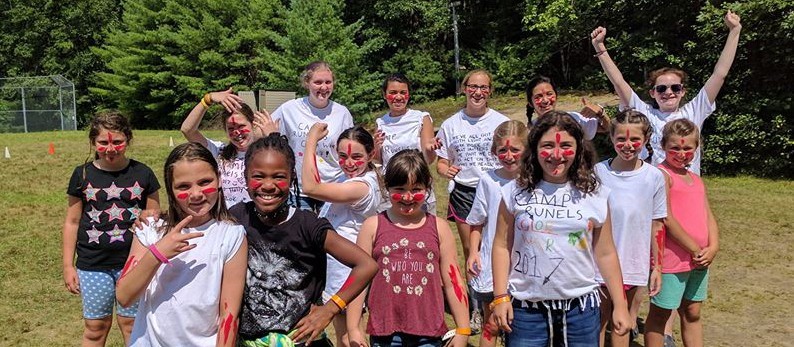 Runels Day Camp
Summer Phone: June 24-August 2, 603-635-2366
Year-Round Camp Hotline: 617-350-8335

Winner of the Boston Parents Paper 2018 "General and Traditional Summer Day Camps" Family Favorite! Take a virtual tour! 


Camp Runels is celebrating its 88th summer as a destination where girls build courage, confidence, and character, and is now open to girls entering kindergarten! Nestled on 300 wooded acres along the shores of Little Island Pond, Runels offers a new adventure at every turn. And the best part? Girls choose what they want to do! From swimming, boating, hiking, archery, and a challenging high ropes course, to pottery, cooking classes, and day trips, campers work together with staff to design the summer camp experience of their dreams. 
For more information, attend an open house, or to schedule a tour, email us or call 617-350-8335. Financial aid is available.
Read about Runels Day Camp in our 2019 Camp Guide. All program fees include bus transportation to/from these towns: Chelmsford, Dracut, Dunstable, Littleton, Lowell, North Chelmsford, Tyngsboro, and Westford. Check bus stop locations and times on the bus schedule.  
Already registered for camp? Read your 2019 camp confirmation packet to find all the information you need to know, including a suggested packing list.

Each day begins with an opening flag ceremony and singing. You'll then enjoy fun activities which include arts and crafts, swimming, fun sports, and working on various Girl Scout badges and patches. The day ends with the traditional flag ceremony.

Sarah "Fluke" Leshay and Jess "Crunch" Barkley are excited to be co-directing Camp Runels together this summer. Both believe that camp is a place where girls can stretch to try new things, grow in their independence, and make lifelong memories and friends. They are passionate about creating a dynamic, safe, and fun camp program at Runels.

Fluke and Crunch are both entering their 10th summer working at Runels—this will be Fluke's 10th summer as director and Crunch's 6th. During the school year, both Fluke and Crunch are teachers. Fluke teaches high school science while Crunch teaches middle school special education. Fluke received her BS and MAT from Northeastern University, while Crunch received her BA from West Virginia Wesleyan and her MSED from Simmons College. They love to spend time with their Girl Scout troops as well! Between them, they have 35 Cadettes, Seniors, and Ambassadors in their two troops!