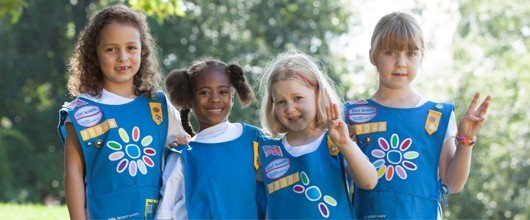 What Daisies Do
Don't we all wish we could look at the world through a Girl Scout Daisy's eyes? Everything they do─from planting a garden to putting on a skit to proudly adding that first petal to their vest─sparkles with that "first time ever" newness! Along the way, they'll use their Daisy exuberance to help others─and they'll never forget how that feels. Every Daisy meeting is an adventure filled with giggles, energy and excitement. 
As a Daisy, she might:

Are you ready for Kindergarten?
Have a girl who's starting kindergarten in the fall? Set her up for success before she even walks into the classroom! Girl Scouts can help you (and her) navigate this new chapter with expert tips and activities sent straight to your email. Sign up today to receive a series of emails to help you prep your girl for kindergarten.

Interested in starting a Girl Scout troop or becoming a leader? Attend an event to learn about troop and summer camp opportunites for girls entering Kindergarten this fall.