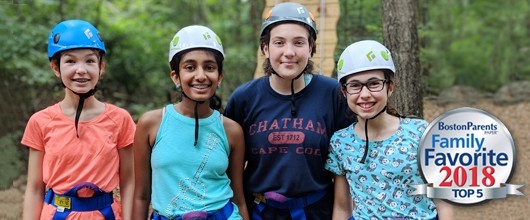 Runels Resident Camp
Summer Phone: June 23-August 16, 603-635-2366
Year-Round Camp Hotline: 617-350-8335
Take a virtual tour!

Nestled on 300 wooded acres along Little Island Pond, Camp Runels is 88 summers strong! Bond with other amazing girls as you share experiences morning and night. Work with staff (many of them, former campers!) to design your own program. Swim, boat, hike, master archery, chop wood in the lumber yard, or climb our high ropes course. Get artsy in the craft studio with our pottery wheel, painting canvases, and textile arts. Other programs take girls off-camp, traveling by van, foot, canoe, or kayak. You might spot a Runels camper paddling into the sunset on Lake Winnipesaukee, exploring the Boulder caves, or soaring down the zipline in the White Mountains. Our trip and travel programs are designed to offer new challenges and experiences to girls as they grow, providing them with a progression of outdoor skills. See why campers return year after year.

For more information, attend an open house, or to schedule a tour, email us or call 617-350-8335. Financial aid is available.
Read about Runels Resident Camp in our 2019 Camp Guide. Bus transportation is available and will run to/from Boston, Braintree, Woburn, and camp.
Already registered for camp? Read your 2019 camp confirmation packet to find all the information you need to know, including a suggested packing list.

At the beginning of the session, you'll work with counselors to plan what the group will do while at camp. With every camper's input in the program, no two days will be the same. You will spend part of each day participating in specialty program activities and fill the rest of the time with many different activities. Get creative in arts and crafts, cool off at swimming, or take aim on our archery range. At least once during the session you will have the chance to cookout with your unit.

Sarah "Fluke" Leshay and Jess "Crunch" Barkley are excited to be co-directing Camp Runels together this summer. They both belive that camp is a place where girls can stretch to try new things, grow in their independence, and make lifelong memories and friends. They are passionate about creating a dynamic, safe, and fun camp program at Runels.

Fluke and Crunch are both entering their 10th summer working at Runels—this will be Fluke's 10th summer as director and Crunch's 6th. During the school year, both Fluke and Crunch are teachers. Fluke teaches high school science while Crunch teaches middle school special education. Fluke received her BS and MAT from Northeastern University, while Crunch received her BA from West Virginia Wesleyan and her MSED from Simmons College. They love to spend time with their Girl Scout troops as well! Between them, they have 35 Cadettes, Seniors, and Ambassadors in their two troops!
 
Campers who stay at Runels will live in platform tents, yurts, open air cabins, or tentalos holding 4 to 6 girls. Each girl will have a cot with a mattress. A bathroom is located near each unit. Hot showers are located in the central shower house. Each unit has a fire pit for cookouts. Counselors stay in quarters with other staff right by the campers' quarters. Each unit has a covered pavilion for rainy day space. Poles for bug netting will be provided. Bug netting can be purchased at the trading post. See pictures of Camp Runels sleeping quarters.

Camp Runels is an American Camp Association accredited camp. This means that a nationally recognized organization comes in every 3 years to make sure everything we do (from the meals we serve to the programs we plan) is done in a safe way. By selecting an ACA accredited camp you can be assured your camper is safe.
Our camp is also licensed by the New Hampshire Department of Environmental Services. The Department of Environmental Services is the state regulating body for summer camps in New Hampshire and has separate standards of health and safety with which we comply.

Packing for camp can be very hard if you don't know what to bring for your stay, especially if you are a first time camper. If you're wondering what you can and cannot bring to camp, view the complete packing list that will work for all our camp programs. We recommend packing in a camp trunk that can fit under your bed or a soft duffle bag. Please label EVERYTHING with your full name. Visit the Girl Scout Shop for camping essentials!