Leading Women Awards Breakfast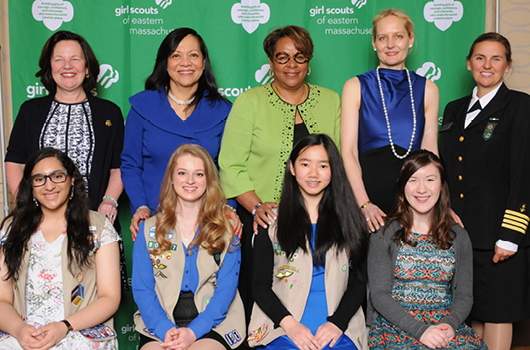 Thank you for making the 2016 Leading Women Awards a success!
On March 24, 2016, we honored four inspiring women:
Stephanie Browne, Senior Director, Information Technology-Healthcare, Blue Cross Blue Shield of Massachusetts
Dr. Divina Grossman, Professor and Former Chancellor, University of Massachusetts Dartmouth
Hannah Grove, Executive Vice President, Chief Marketing Officer, State Street Corporation
Linda K. Zecher, President, Chief Executive Officer and Director, Houghton Mifflin Harcourt


The Leading Women Awards is Girl Scouts of Eastern Massachusetts' signature annual event, which celebrates leadership and helps bring Girl Scouting to girls and communities who need it most.
 
The awards recognize outstanding individuals whose accomplishments make them ideal role models for Girl Scouts, the leading women of tomorrow. More than 450 guests from the private sector, government, non-profit organizations and educational institutions gather to celebrate our distinguished honorees as well as Girl Scouts of today.
 
2017 marks the 25th anniversary of the Leading Women Awards and nominations for Leading Women (and men) are now being accepted.
For more information about the 25th anniversary celebration, please contact Dana Pellitteri at 857-453-5329.
2016 Event Sponsors