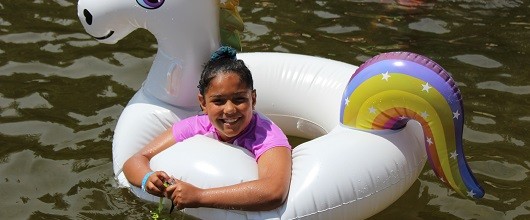 Wind-in-the-Pines
Sited on 144 wooded acres on Gallows and Little Long Ponds, Wind-in-the-Pines offers a wide variety of amenities and activities. The Environmental Discovery Center (EDC) features self-guided exhibits, a troop camping room, climbing wall, and high ropes course (each room is available separately for a fee). There's just as much to do outdoors. Our grounds feature a challenge course, archery range, sports field, amphitheater, high ropes course, basketball court, hiking trails, a pond for canoeing and kayaking, and a full waterfront (lifeguard required). After-school and weekend programs are offered. Canoe rental and waterfront use available by prior arrangement. Search for available dates for archery, boating, low challenge course, climbing wall and high ropes programs at Camp Wind-in-the-Pines.
Balfour Lodge, on the day camp side, is heated (sleeping capacity: bunk beds that sleep 16). The EDC, on the resident camp side, is heated and indoor bathrooms (sleeping capacity: mattresses on the floor that sleep 40). Sleeping quarters vary by facility. Lodges available year-round (excluding summer camp).
Tent units, some with 8-10 platform tents, some with 4, each tent sleeps 5 on cots and mattresses. Features include wash houses, toilets, running water, and a shower, kitchen shelters and fireplaces. Tents available late April through mid-October (excluding Summer Camp).
Address: 190 W. Long Pond Road (Resident side), 360 Mast Road (Day side), Plymouth MA
There are separate directions for day and resident camp, and the two camp properties are not connected.
Day Camp: Please do NOT use GPS or Mapquest to get to camp, as those directions may not work well, and they will likely get you lost on some very remote roads. Instead, take Route 3 to exit 3. Follow the signs towards Clarke Road at the end of the ramp. At the stop sign ¼-mile up, turn right onto Long Pond Road. Follow Long Pond Road past South High School (on the right). About .4 of a mile past the high school, turn left on Mast Road. Mast Road is a dirt road. The Camp entrance is 1.7 miles down Mast Road on the left, and it is clearly marked.
Resident Camp: Take Route 3 to Exit 3. At the end of the ramp follow the arrow towards Clark Road. At the stop sign, ¼ mile up the road, turn left then immediately right (almost a diagonal) to stay on Clark Road. At the end of the road, ½-mile up, turn left. Go around the bend and the road turns to dirt. Camp is ¼-mile ahead on the right. GPS cannot be used to get to camp.